WAADA Track Championship
By Gracie Reed
May 24, 2023
The Indiana Junior High School competed at the WAADA (Westmoreland Area Athletic Directors Association) track championship meet on May 13th. The IJHS track team went into the meet with some strong competitors and held their ground. Many PR's (personal records) and goals were accomplished. For dash events the top 12 made it to finals and for anything running that wasn't a dash there weren't finals but the top 12 were counted as finalists. For throwing, running, and vault, the top 7 went on to the finals. The top 6 in each event placed.
Girls Finalists:
100m Dash: Addison Porter (8) won with a time of 13.42.
200m Dash: Gracie Reed (7) won with a time of 27.70.
400m: Gracie Reed (7) won with a time of 1:01.29.
1600m: Abi Cramer (8) took 9th with a time of 6:21.85 and Laura Keppich (7) took 11th with a time of 6:23.12.
The 4×100 Girls Relay: Athletes Karsen Sheriff (8), Gracie Reed (7), Lilly Mill (7), and Addison Porter (8) took 3rd with a time of 53.82.
The 4×400 Girls Relay: Athletes Finley Stewart (7), Abi Cramer (8), Sophia Sodikou (8), and Gracie Reed (7) took 8th with a time of 4:50.85.
The 4×800 Girls Relay: Athletes Morgan Blystone (7), Finley Stewart (7), Kayleigh Zottola (7), and Laura Keppich (7) took 6th with a time of 11:44.58.
Long Jump: Addison Porter (8) took 5th with a jump of 14-07.00.
Triple Jump: Addison Porter (8) won with a jump of 33-02.50.
Pole Vault: Julia Weber (8) took 6th with a vault of 7-00.00.
Discus: Marianne Boothman (8) took 2nd with a throw of 79-04.00.
Boys Finalists:
100m Dash: Roman Jones (8) took 12th with a time of 12.76.
200m Dash: Roman Jones (8) took 7th with a time of 26.28.
400m: Nate Killeen (8) took 8th with a time of 59.69.
800m: Jonas Vick (8) took 8th with a time of 2:22.27.
110m Hurdles: Joshua Reed (8) took 5th with a time of 17.93.
The boys 4x800m Relay Team: Athletes Billy Taylor (7), Nate Killeen (8), Jacob Neal (8), and Jonas Vick (8) took 4th with a time of 9:49.93.
Pole Vault: Brock McClure (8) took 6th with a vault of 8-06.00.
Discus: Jonas Vick (8) took 4th with a throw of 121-06.00.
The IJHS went in and competed very well with their competition. The girls took 4th in the bigger school division and the boys took 4th in the smaller school division. The teams were in different divisions because of the amount of people the girls had compared to the boys. Overall, the IJHS had a great meet and each and every athlete competed well whether they were a finalist or not.
IJHS Track Team Lights It Up at Clearfield Invitational
By Stella Empfield
May 5, 2023
Indiana Junior High Track and Field are jumping into action with a great start to the season. On Friday April 14th, 2023, Indiana Junior High competed in their first invitational at Bison Invitational at Clearfield Stadium. Indiana took the top 3 people from each event. Both Indiana girls and boys took 3rd place at the invitational. Thanks to Coach Lockard, Mosgrove, Cochran, Branan, and Coach Duffee, this day was possible. Also a special thanks to our two volunteer coaches, Mrs. Branan and Mrs. Reed.
The boys finals for Indiana:
The boys 100 meter dash: Matthew Stone (7) took 6th place.
The boys 200 meter dash: Roman Jones (8) took 7th place, Dylan Shank (8) took 10th place, and Maddox Myers (7) took 19th place.
The boys 400 meter dash: Joshua Reed (8th) took 2nd place, Matthew Stone (7) took 8th place, and Michael Killeen (7) took 25th place.
The boys 800 meter run: Jonas Vick (8) took 4th place, Grayson Brunetto (8) took 7th place, and Caleb Hawk (8) took 20th place.
The boys 1600 meter run: Kaiden Branan (8) took 7th place, Billy Taylor (7) took 11th place, and Zack McAdoo (8) took 18th place.
The boys 3200 meter run: Billy Taylor (7) took 6th place, and Connor Sevajian (8) took 8th place.
The boys 110 meter hurdles: Joshua Reed (8) took 6th place.
The boys 300 meter hurdles: Joshua Reed (8) took 6th place, Maddox Myers (7) took 16th place, and Ben Ferraro (7) took 21st place
The boys high jump: Nate Killeen (8) took 3rd place, Anthony Boiano (7) took 15th place, and Connor Sevajian (8) took 18th place.
The boys triple jump: Anthony Boiano (7) took 11th place, Mason Fisanich (7) took 21st place, and Noah Green (7) took 22nd place.
The boys pole vault: Grayson Brunetto (8) took 4th place, Brock McClure (8) took 7th place, and Liam Templeton (8) took 16th place.
The boys Discus: Jonas Vick (8) took 2nd place, Dominic Pumford (8) took 9th place, and Darius Webb (8) took 12th place.
The boys shot put: Jonas Vick (8) took 2nd place, Luke Halchak (8) took 5th place, and Dominic Pumford (8) took 12th place.
The girls finals for Indiana:
Girls 100 meter dash: Addison porter (8) took 3rd place
Girls 200 meter dash: Sophia Sidikou (8) took 6th place, Karson Scherf (8) took 10th place, and Lilly Mill (7) took 11th place.
The girls 400 meter: Gracie Reed (7) took 1st place, Abi Cramer (8) took 9th place, and Finley Stewart (7) took 13th place.
The girls 800 meter run: Abi Cramer (8) took 10th place, Laura Keppich (7) took 12th place, and Morgan Blystone (7) took 14th place.
The girls 1600 meter run: Laura Keppich (7) took 10th place, Teegan Reeger (7) took 18th place, and Mackenzie Brown (7) took 21st place.
The girls 3200 meter run: Teegan Reeger (7) took 8th place.
The girls 100 meter hurdles: Sophia Sidikou (8) took 5th place.
The girls 300 meter hurdles: Gracie Reed (7) took 2nd place, Sophia Sidikou (8) took 4th place, and Ellery VanHoose (7) took 20th place.
The girls high jump: Scarlett Stossel (7) took 16th place.
The girls long jump: Addison Porter (8) took 1st place, and Chloe Yachisko (7) took 12th place.
The girls triple jump: Addison Porter (8) took 3rd place, and Jane porter (7) took 17th place.
The girls pole vault: Julia Weber (8) took 4th place, and Morgan Blystone (7) took 13th place.
The girls discus: Marianne Boothman (8) took 4th place, Stella Empfield (7) took 22nd place, and Kaylee Walker (7) took 33rd place.
The girls shot put: Marianne Boothman (8) took 13th place, Stella Empfield (7) took 16th place, and Alaina Juart (7) took 22nd place.
This was a fun day filled with competition! Everyone did great, and hope to see many of these competitors at WAADA, which is on May 13th.
IUP Mens Basketball Season Comes to an End
By Aubrey Hunger
April 5, 2023
The IUP Men's basketball team had a very strong season, finishing with a 32-2 overall record. The Crimson Hawks, led by head coach Joe Lombardi, won their fourth consecutive PSAC Championship.
IUP started the season with 22 consecutive wins, and were ranked number one in the country for five weeks. After defeating Winston-Salem State and Virginia Union in the first two rounds of the NCAA Tournament, IUP had an upset at home when they lost to West Liberty, 70-53.
In conclusion, IUP started with a very successful season, even though it is not how the team planned to end the season, they had a great season.
March Madness
By Samantha Aljoe
April 5, 2023
March Madness is the nickname for the NCAA Men's and Women's basketball championships. The tournament is single-elimination, beginning with 68 teams that compete in seven rounds for the national championship. The "madness" occurs as people try to guess the winning teams for each round in their brackets.
March Madness takes place over the course of three weeks. It started on March 17 and ended on April 3rd with the men's final. This year's champions were Louisiana State University (LSU), who defeated Iowa for the women's title, and the University of Connecticut, which defeated San Diego State for the men's title.
In conclusion, March Madness is one of the most intense times of the year for College basketball fans in the country.
IJHS Volleyball Bumps Up The Spirit
By Addison Porter and Stella Empfield
March 10, 2023
The 2023 volleyball season has arrived, and so has new players, games and team spirit. So far this season we have seen some loss and one win. As the games go on, our Indiana team has improved, there is much to come this season and we hope to see more victories.
Let's meet the team: Kathryn Aiken (7th), Rylin Blystone (8th), Sophia Boyer (7th), Claire Brewer (7th), Kaylee Cass (8th), Laila Clifford (8th), Bella Dill (8th), Angelina Donatelli (8th), Stella Empfield (7th), Laura Keppich (7th), Allison Lichtenfels (8th), Rachel Livermore (8th), Marlie Mangold (8th), Lauryn Mann (8th), Samantha Martin (7th), Lilly Mill (7th), Jayleen Navarro (8th), Skyelyn Newell (7th), Clarissa Pineda (8th), Addison Porter (8th), Paiton Porter (7th), Erica Sexton (8th), Tyla Stancombe (7th), Finley Stewart (7th), Scarlett Stossel (7th), Sophia Thomas (7th), Emma Todd (8th), Ellery VanHoose (7th), Ransym Wheeling (8th), Addison Williams (8th), Maddy Williams (7th), and Shyla Wilson (7th).
These girls have worked super hard in practices and have become so much better than they were at the start of the season. Every performance, they try their best and give it their all.
Mid way through the season we asked some of the players what they thought of the season so far and how they could improve. Kaylee Cass (8th) "I think I've improved on working with the team." She also commented on how the 8th grade team needs to improve "We need to work on serve receives more."
Maddy Williams (7th) As a team we need to improve by; "More talking and trying to…flow together." Most girls on the team said they want the team to improve, by "working together."
Ransym Wheeling (8th) "I think we could talk more whenever we're on the court," while Tyla Stancombe (7th)commented, "I think I've improved on being a teammate and communicating." As a team, Tyla thinks that the girls could all encourage each other more when on the court.
The Volleyball coach for this year's 7th and 8th grade team is Rachel Horrell. She ran Track and Field in college. She was recruited to play volleyball in college but stuck with her passion. She stated, "I chose to run track in college because it provided more opportunities for me at a high level. I also decided that playing both would be too much for me on top of my course load."
We asked her what led her to coaching volleyball. She said, "I knew I wanted to get into coaching somehow and I love volleyball so thought when the JH position opened up that it would be a great fit for me to get my feet wet."
We also asked her what she hopes to see for the rest of the season and she stated, "I hope to see my athletes grow more individually and as a team unit; which I have already seen a lot of!"
The last question we asked Coach Horrell was what her biggest pet peeve is when coaching volleyball. She said, "My biggest pet peeve when coaching is when we do not apply teachings or practices to game play."
Although the volleyball season is slowly coming to an end, individuals and the whole team have made significant improvements in games and practice. With the short amount of time leading up to the end of the season, and games back to back, they still showed their best effort throughout the season.
Hope for Damar Hamlin
By Jane Porter
January 20, 2023
On January 3, Damar Hamlin went into cardiac arrest on the field during the Buffalo Bills and Cincinnati Bengals game. The Bills were playing against the Cincinnati Bengals at Paycoe Stadium. Cincinnati Bengals player Tee Higgins was running a 13 yard pass with the ball from Joe Burrow when he hit Hamlin hard in the chest with his right shoulder. After Damar Hamlin tackled Tee Higgins he stood up on his feet and about 3 seconds later collapsed backward and laid motionless on the field.
Many people have been wondering what caused Damar to go into cardiac arrest. Cardiac arrest is a sudden heart, breathing, and consciousness failure. If it is not tended to immediately it can cause death. Cardiopulmonary resuscitation (CPR) and using a defibrillator can help stabilize you until the ambulance comes. Some symptoms of cardiac arrest are sudden collapse, no pulse, no breathing, and loss of consciousness. The most common cause of cardiac arrest is an unusual heart beat rhythm.
Damar Hamlin was rushed to the University of Cincinnati medical center from Paycoe Stadium after he collapsed and lay motionless for 19 minutes. On Tuesday January 4th, 2023 the Buffalo Bills said "He is currently sedated and listed in critical condition." People stood outside the hospital holding lit candles and praying for Hamlin. His heartbeat was restored on the field by using CPR and was shocked 3 times using a defibrillator. The hospital said that they still don't know what caused Damar Hamlin to go into sudden cardiac arrest because it is too soon to know. But a rare trauma called commotio cordis may be possible to have been caused by blows to the chest and may lead to sudden cardiac arrest.
Damar Hamlin's teammates are very shocked and worried for Hamlin. On Thursday January 6th, 2023 the Bills announced that Damar has shown remarkable improvement over the past 24 hours. The Bills and Bengals will meet again this weekend in the AFC playoffs.
#32: Gone But Never Forgotten
By: Addison Porter
January 20, 2023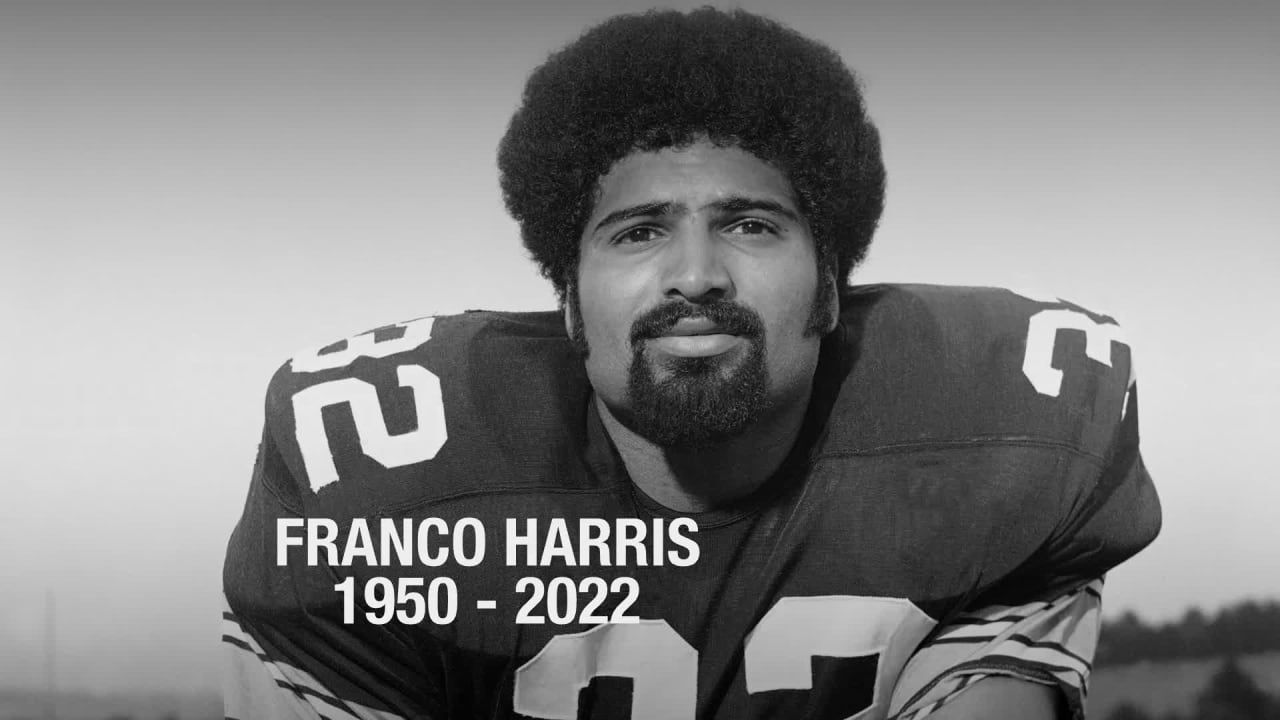 Photo courtesy of NFL.com
One of the most remarkable players in Steelers football passed away this last month. Franco Harris died on December 20th 2022, just days before his anniversary game. He was one of the greatest members of the Steelers on and off the field. Harris was known for spreading his kindness and dedication to his teammates and fans throughout his whole career. A leader to say the least, he will go down in history as one of the greatest NFL football players of all time.
Harris was born in Fort Dix, New Jersey, on March 7th, 1950. He went to Rancocas Valley High School and later on played football at Penn State University. After college he was selected in the 1972 draft as the first round pick for the Steelers. There was debate over who would be the first pick for the Steelers, but managers and coaches never looked back after describing Harris as the "missing piece" to the team. During the twelve seasons Franco Harris was a part of the steelers, he held or shared 24 NFL records, rushed 1000 yards for eight seasons, and had 307 receptions.
"There's an old saying 'the United States never won a naval battle against the Japanese until midway through and then they never really lost a battle.' Well, the Steelers never really won until Franco got here and never really lost until he left," teammate Jack Ham said. Franco Harris played for the Steelers for 12 seasons and there was never a losing streak. He rushed for 12,120 yards on 2,949 carries in the 173 games he was put in. He also made one of the most iconic plays in NFL history called the "Immaculate Reception". Harris played in Super Bowls IX, X, XIII and XIV, and also won the MVP award for Super Bowl IX.
Harris was an amazing person on and off the field. He helped in several programs in the Pittsburgh area, including Special Olympics and the Pittsburgh Promise. Player Larry Fitzgerald said "As we remember his many contributions to this community, on and off the field, I hope his family is comforted in the fact that his imprint on this town and his work will never be forgotten." To honor Franco Harris, the Pittsburgh Mayor Ed Gainey declared December 24th as Franco Harris Day.
Although Franco Harris has passed, he will always be remembered as one of the most important and influential football players in the NFL. He is gone but will never be forgotten.
World Cup 2022
By Emma Palmer
December 5, 2022
The 2022 World Cup has fans up on their feet. The FIFA World Cup is one of the most competitive soccer tournaments in the world. The World Cup is held every four years. It is where the best soccer teams from around the world compete for the title of "World Champion".
In 1930, FIFA, which stands for "Fédération Internationale de Football Association" or "International Federation of Association Football", created the World Cup. The World Cup was created as a way for the best soccer players to represent their countries to compete for the title of "World Champion".
The first World Cup was held in Uruguay in 1930. Uruguay won and became the first World Cup Champions. Over the years, more and more teams were added to the tournament. In the first World Cup, there were 12 teams competing, but now, 32 teams qualified. The 32 teams are split up into 8 groups and go from the beginning to the quarter finals, then the semi finals, then the finals. Each round eliminates teams.
The tournament lasts about a month every 4 years and is played in different places around the world. The only time the World Cup was skipped was during World War II. The 1942 and 1946 tournaments were not played because people were focused on more important things than soccer like manufacturing weapons, fighting for their countries, or recovering from war.
Of all countries that have competed, Brazil has won the most World Cup titles. Brazil has qualified for every World Cup since the beginning and won the tournament a total of five times. Their most recent win was 2002. Since then, the winners for the World Cup were Italy in 2006, Spain in 2010, Germany in 2014, and France in 2018. This year, the World Cup is being hosted by Qatar, which is located in the Middle East next to Saudi Arabia. The tournament is being held in the winter because of the extreme summer temperatures in Qatar in the summer. In four years, the World Cup will return to the summer and be held in North America in various cities in the United States, Canada and Mexico.
The World Cup is considered to be one of the most popular sports events in the world, along with the Olympics and The Super Bowl. In 2010, 700,000,000 people watched the final round. Did you watch this year?
Track Season End in Victory and a couple of Broken Records
By Emily Ferraro and Addison Porter
May 25, 2022
As the school year comes to an end, so does the track season. We interviewed students and asked them what their favorite part of the season was and this is how they answered.
The first question that we asked was how they enjoyed track this year and this is what they had to say. They mainly answered that it was very fun and they got to hang out with their friends and had the opportunity to make new friends. Then we asked students about their biggest accomplishment this season. Lelise Allison(8th) said that "I broke 30 feet in the triple jump." Maddy Bauer(8th) said, "I made the 4×8 that was a pretty big accomplishment for me."
The second question we asked was what was their favorite memory. Laken Kugler(8th) said, "My favorite memory is going to be today when we get ice cream." Addison Fry (8th) said, "I got new personal records." Throughout the track season there were many celebrations for accomplishments such as dropping times in running events as well as reaching new distances and heights in the field events. Dairy Queen, popsicles and Capri Suns were some of the rewards for a job well done.
This season we celebrated records being broken, scoring points and competing against other schools in different divisions. Levi Porter set new records in the triple jump and long jump, as well as coming close to a new high jump record. Porter also won three individual events at the WAADA conference championship. As a team the girls won the Bellefonte Invitational while the boys come in second. The last meet of this year was when the athletes competed in the 2022 WAADA championship and both came home with first place trophies for the first time in school history. Overall athletes had a very good season, and many students said that they were going to continue track into next year.
The 2022 Iditarod
By Ruby Westrick and Kate McKelvy
April 5, 2022
The Iditarod of 2022 is complete, with Brent Sass winning first place! After more than eight days of dog sled racing with 11 talented sled dogs, Brent Sass crossed the finish line. His winning time was 8 days, 14 hours, 38 minutes and 43 seconds to cover the roughly 975 mile northern route. Brent Sass will receive an as yet to be determined check from winning the race, but in the past, winners usually get a prize of $50,000.
It was close calls all through the race, with Brent Sass struggling at the beginning, but eventually pulling ahead. Many people thought that the well experienced five time winner Dallas Seavey would win for the sixth time, making him the most decorated musher in the Iditarod's history.
Having the right dog breed is important for a chance of winning the Iditarod. The best dog breeds for sled races are the Samoyed, Alaskan Malamute, Siberian Husky, and the Chinook. The most favored are the Alaskan Huskies because they like to run and pull.
Did you know that all of the dogs on the iditarod wear booties? It's true! The dogs have to wear these in order to keep their paws warm, and look adorable while doing so too!
The Iditarod of 2022 was a great chance for racers to show their talents, and the passion they have for sled dog racing. It is such a commitment, and to watch these racers throughout the race was fun for many people.
INDY Swimmers Head to Districts
By Lilli Manzi and Gracie Reed
March 18, 2022
If you are a competitive swimmer, you know about districts. Districts is a swim meet that swimmers must qualify for by achieving a certain time. From districts there are other meets that swimmers must qualify to go to, such as states and nationals. Many local youth swimmers competed in districts as a part of the Indy Piranhas, a club out of the Indiana County YMCA. There were 62 swimmers who qualified spread out among four age groups competing at Spire Institute in Geneva, Ohio.
District competition involves both individual and team competition. For individualized events a swimmer can win his or her heat by touching the timing pad first. The winner is the swimmer who has the fastest overall time.. The team competition is a little different. Swimmers earn points for their team. The higher that a swimmer places in his or her event the more points they earn for the team. The teams can win in each age group in both boys and girls divisions, as well as win an overall award.
The Indy Piranhas placed second in each of the age groups in both girls and boys. Indy also earned a second place in overall girls, first place in overall boys, and the second place overall team award. The Richard G Snyder YMCA team from Kittanning dominated at the meet placing first overall in the team award as well as many others.
There are state and national competitions after districts. This year, it was harder for many swimmers to make it to states because there were two sessions in one day. The first session was the preliminaries and the second was the finals. In prelims swimmers must place in the top ten in their event to advance to the finals. There is a break between prelims and finals for swimmers to rest and fuel up their body. The finals are all in one pool and alternate between the girls events and the boys events. During the finals race of the events the top four earn a medal and qualify for states.
District swim meets can last from one to three days. Certain days will last longer due to the events that are longer than others and the meet starting late. This year Districts lasted three days with three sessions each day. Distance events are only swum once because of how long they last. Spire Institute had two pools, so the boys swam in one and the girls in the other. Finals are swum in one pool because they have less swimmers.
Overall Districts was an amazing experience for new swimmers and old, swimmers who have gone before and who haven't, and for the coaches as well.
Track and Field Begins
By Emily Ferraro
March 18, 2022
The pre-season for spring Track and Field has started. Participants have been attending pre-season practices on Tuesday and Thursday for the past two weeks. The first official track practice will be held on Monday, March 21 from 3 to 4:30 pm after school. This year the track and field team will participate in two invitationals and five dual meets. The first meet will be on April 4th at home against Kiski.
Participating in track gives athletes the opportunity to choose among different running events and field events. For the jumping events there is long jump, triple jump, high jump, and pole vault. Throwing events are shot put and discus. Running events are 100, 200, 400, 800, 1600, 100/110 hurdles, 4×100 meter relay, and 4×400 relay. This gives students a variety of things to try to see what they like.
Coaches for the 2022 season are Coach Lockard, Coach Branon, Coach Shirley, Coach Duffee, and Coach Mosgrove. The coaches are hoping for continued success this season.
Checking In on the Wrestling team
By Gabi Isenberg and Liam Hunter
February 10, 2022
Indiana Junior High is known for many things: high academic scores, beautiful buildings, and school activities. However, one sports team is often overlooked – the IJHS Wrestling team.
This year the IHS/IJHS wrestling team has won five out of their seven matches.
Coach Donny Bowers said, "We have a very hardworking team that has been very successful this season." Along with their 5 wins, they have also participated in two tournaments. In the United Tournament they finished in 2nd place out of 16 teams and in the Indiana Tournament they placed 3rd out of 18 teams. Bowers stated, "I am very proud of the young men on the wrestling team."
The wrestling team hasn't been affected that much by COVID-19. They aren't required to wear masks when wrestling since they are doing physical activity but they do have to be very careful when it comes to hygiene while wrestling because of COVID-19. However, Coach Bowers says the team does a good job of following the protocols in place.
The wrestlers are feeling confident about the progress of the team this season. 7th grader Dominic Donatelli stated, "We've been…practicing hard and winning." Dominic also feels proud of himself this season. "I've tried my hardest." Brock McClure, another 7th grader commented that, "We've done good as a team and haven't lost that much." Brock has been wrestling for 7 years.
The eighth graders on the team are also proud of their accomplishments. Graham McFarlane said, "The team's doing really good. We've filled every weight class and we've only lost 2 matches." Dominic Fanella added that, "The team's been doing good…I feel like we could [improve by getting] different partners because we usually wrestle with the same partners."
The wrestling season is almost over and our team's had one of the best ever. The IJHS/IHS wrestling team is just one example of how IASD athletes strive to be their best every day.
Volleyball Begins
By Sydney Anderson
February brings snow, and snow means it's time for girls seventh and eighth grade volleyball! Volleyball is one of the many sports provided at the Junior High. This year, Dana Kundla will be coaching the seventh and eighth grade teams, along with the help of assistant coach Allison Ball and other highschool players. So far players have had skills and drills in late January and currently are going through tryouts. At the skills and drills, athletes claim that there were so many people and it was nerve wracking. Others explained that it was super exciting and they were sure that tryouts would be easy.
Laken Kugler (8) was excited for the pre-season practices. She played last year and is hoping to make the team this year and play with her friends again. She was surprised with how crowded it was but enjoyed it anyway. "There were a lot of people there. It was intimidating." She thought she did pretty good for the first time practicing in a while.
Ali Genchur (8) was nervous and excited. She also played last year, and was expecting there to be lots of competition but she still feels good about her practice. "I knew there were going to be a lot of people, and that's why I was nervous. Other than that I'm really looking forward to playing this year." Ali also claimed that she thinks she's ready for try-outs after working on volleyball a little more outside of school.
Volleyball season is almost here for the Junior High, and students are starting to prepare for the upcoming tryouts and season. Although it's the first year for some and others have experience, everyone is excited to be in the gym. As nerve wracking as it is, many of the athletes agree that enthusiasm is the best way to feel about try-outs. Make sure to come support your Junior High volleyball team at some of their home games this season!
Winter Track Launches First Indoor Season
by Emily Ferraro and Sydney Anderson
Winter track has taken a full swing into the season. Students bundle up in their warmest clothing, and join up for workouts on the track at the High School . Students run in the freezing temperatures and work their hardest to achieve their best .
When runners were asked how they felt about running in the frigid cold, Maddy Bauer (8) said that she likes running in the cold. Bauer also said that she was excited but nervous about the upcoming meet. Addy Fry (8) said that she also liked running in the cold and she was very excited about the first meet.
At the first meet in Youngstown, Ohio, several runners ran personal best times. Kaidan Branan scored a personal best in the 1600 running 5:35. Kaylee Onder also ran the 1600 in 6:22 for her personal best. Emily Ferraro ran the 400 in 1:12.
This is winter track's first season and so far it's been a hit. Although only a few students participate, they all have a lot of fun with it. As most of the runners hope, this will not be the last season of winter track and we hope that coaches Mr. and Mrs. Branan will continue to keep this sport going for the Junior High.
IJHS Girls Basketball Excels
BY GIANNA BOYER AND EMILY FERRARO
November 22, 2021
The 2021 girls basketball season has begun. The team had its first game on October 19 against Penn Hills. The girls are giving it their all to achieve their best. The 8th-grade team are former state champions and plan to keep that title.
The team faces many challenges such as balancing school and basketball. Anna Carnovale (8), stated that she balances sports and school by "doing all my homework during flex or on the bus." Schoolwork can be easy to fall behind. The girls have to be passing all of their classes to be allowed to play and practice.
Addy Hutton (8) stated, "I fall a lot," Small injuries can affect a player's physical and mental health. According to atyourownrisk.org, 90% of students have or have had a sports related injury. Without one team member, the game can fall apart.
The team has to work together and execute plays and the defense has to be on point. On October 23 the team had a tournament in Indiana. The team pulled away with 3 wins and the first place title. After the win Anna Carnavole said, "It makes you feel good because you worked hard for something and it paid off."
The 8th grade team also has the distinction of going 15-0 this year and 27-0 for their 7th and 8th grade season, a feat that has not been done since 1992. Congratulations to this amazing team!
Get to Know the Bullpen Bulls 12-U Team
By: STELLA EMPFIELD
November 22, 2021
There are a lot of talented softball and baseball players on the Indiana Bullpen Bulls teams. Let's meet the 6th grade 12u Bullpen Bulls softball and baseball teams.
Kiylar Lorelli (6) is on the 12u baseball team, and his number is 6. His primary position is shortstop and 3rd base. Kiylar's favorite position is Pitcher and likes hitting better than fielding. Kiylar is known for hitting out of the park homeruns.
Max Drew (6) is also on the 12u baseball team. Max's number is 26. His primary position is 2nd base, outfield, shortstop, 3rd base, and pitcher. Max's favorite position is 1st base, and likes hitting more than fielding.
Beau Raykes' (6) number is 7. His primary position is catcher, and his favorite position is also catcher. Beau prefers fielding more than hitting.
Matthew Stone (6) is number 86. His primary position is pitcher, and his favorite position is shortstop. Matthew also prefers fielding over hitting.
Billy Taylor's (6) number is 28. His primary position is center field, with pitcher being his favorite position. Billy is one of the few that likes hitting more than fielding.
Davis Putt's (6) primary position is center field, making his favorite position also center field. Davis's number is 8, and enjoys hitting more than fielding.
Next up is our fierce 6th grade 12u girls Bullpen Bulls Softball Team.
Gracie Reed (6) is a fierce 12u softball player. Her number is 1. Her primary position is center field, with her favorite being catcher. Gracie likes hitting more than fielding.
Claire Brewer (6) is number 13. Her primary position is pitcher. Claire's favorite position is also pitcher. Claire prefers fielding over hitting.
Sophia Boyer's (6) primary position is catcher, with her favorite being catcher as well. She wears number 8 loudly and proudly. Sophia couldn't choose between fielding or hitting better so she went with both. Sophia is well known for getting her team to win.
Samantha Martin (6) is another fierce number 4. Samantha's primary position is 3rd base or pitcher. Her favorite position is 3rd base and enjoys hitting more than fielding.
Sophia Thomas (6) wears the number 7. Her primary position is Center field, and her favorite is 3rd base. She likes hitting more than she does fielding.
The Bullpen Bulls softball and baseball 6th grade 12u teams are very skilled and are looking forward to the upcoming season.
IUP Education Day
By Emily Ferraro
November 22, 2021
On November 17, students of Indiana Junior high school and other surrounding schools visited the KCAC to watch the IUP Women's Basketball annual Education Day game. IUP played Mount Aloysius and completely put them away. Both teams played hard but IUP pulled away with a final score of 101-35.
The reason for the event was to celebrate education. One activity involved introducing kids to optical illusions and how they fool your brain. Students were given a drawstring bag as they entered. Once the game was over students were asked to pull out cards representing the ones on the big screen. A group of math students attending IUP taught the students how each illusion worked and how it fooled with your brain. You could hear the excitement in the students. Overall it was a very exciting day for students and teachers and a big win for the Lady Hawks.
Diving Into The Piranhas Swim Season
GRACIE REED
October 29, 2021
The Piranhas, the YMCA's swim team, had started their season. Let's dive in and take a look at the youth swim team and program.
The YMCA runs a swim team called the Indiana Piranhas. Team members can swim in the summer or winter or even both! The winter season is much more competitive with district and state competitions, like many other sports. To make it to districts, swimmers must meet a time standard based on their age group. To make it to states, swimmers have to place in the top six at districts.
In competition, there are four strokes: freestyle, butterfly, breaststroke, and backstroke. Some swimmers are good at one stroke while others may swim in multiple events. The main stroke though, is freestyle, which is the fastest and most efficient of all of the strokes. Most swimmers would agree that butterfly is the hardest stroke because it is so challenging.
At the YMCA here swimmers must do a swim test to make the team. The test includes treading water and swimming a certain amount of time or distance. Swimmers practice 3-5 days per week for up to two hours per day. These efforts have paid off as the Piranhas have won three district championships in a row and have sent multiple high school swimmers to the WPIAL championships and even states.
IJHS Football Having Successful Season
BY GABI ISENBERG AND GIANNA BOYER
October 15, 2021
The 2021 IJHS football season is about two months in. Players and coaches are giving their all in order to bring Indiana victory. The team is engaged in many challenges as they are playing on the field.
Jackson Albert (8), running back and linebacker said, "I have gotten injured. I tore a tendon in my knee." Injuries are a setback for many players because they have to take time to heal and recover. Mr. Duffee, the team's coach said, "Well when somebody gets hurt…the person behind them has to step in and do their job. The person who is backing someone up has to be prepared and ready to go."
Players are very motivated this year, largely due to the influences in their lives. Having positive influences for our players is important as they strive to be their best. Zach Brewer (8), stated that his dad has been a big influencer for him because he wants to make him proud. When asked who her main influencer is, Laila Clifford (7) said, "My brother." Laila is also the only girl on the football team, bringing a new set of challenges to her game.
Football has also created many enjoyable memories other than winning. Michael Zimmerman (8) stated that "the bus rides" were a memorable experience for him. Levi Porter (8) said, "playing pee-wee football" was one of his favorite memories.
Football is America's number one favorite sport and it is a big honor for IJHS to be part of the game. The team's last game is October 27th. Make IJHS proud, t
Cross Country Team Rambles On
By GRACIE REED
October 15, 2021
The boys and girls Cross Country teams hosted McKeesport and Norwin on Tuesday, September 28, 2021. The girls defeated McKeesport but lost to Norwin, and the boys also fell to Norwin. Chloe Hain finished 3rd overall for the girls with a time of 12:47 and Addison Fry finished 5th overall for the girls with a time of 12:53. Kaiden Branan finished 3rd overall for the boys with a time of 11:56. These three all scored points for their team including the other top six girls boys from Indiana.
¨The trail was muddy and there was one hard hill,¨ said Lily Manzi who is on the girl's Cross Country Team. The trail, or track, is 1.8 miles long and is located by the S&T Bank Arena. This was the teams last home meet, but they will continue to run elsewhere until the season is over.
¨The people are what made me want to join,¨ said Chloe Hain. Kaiden Branan joined because he has been running from a young age. Kaiden has been running Cross Country for 1 year while Chloe has for 2. They both love running but Chloe doesn't particularly like competing. They both plan on continuing to run throughout the coming years.
Good job to everyone who competed at the meet and good luck to the team at the rest of the meets of the season!